With warmer weather just around the corner, now is the perfect time to start planning any exterior projects. Al fresco dining spaces are a fabulous way to celebrate sunny afternoons and balmy evenings. Explore inspiring ideas to elevate your outside space for indoor-outdoor living…
Whether you pick soft neutrals or vibrant shades, use our durable exterior paints to create an inspiring dining space which makes the most of the sunshine.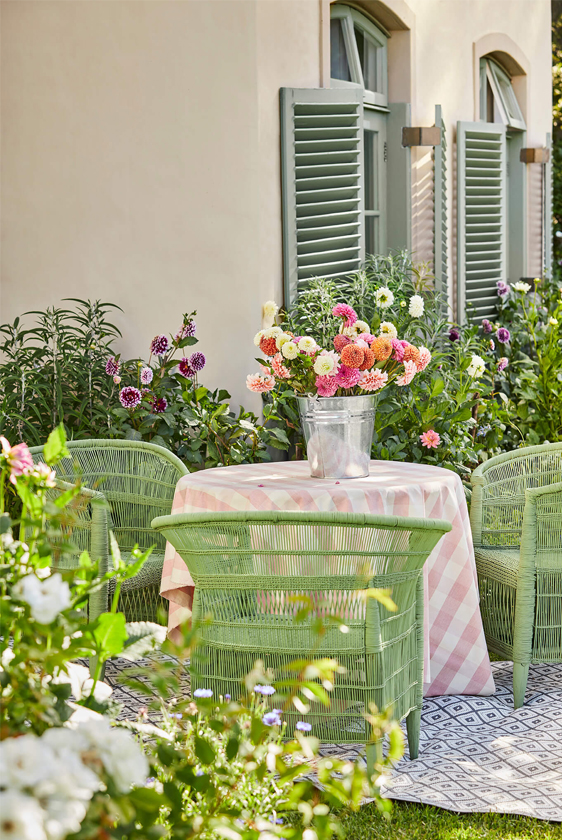 Wall: Clay, Shutters: Windmill Lane, Chairs: Garden
Pair blue and white for a coastal feel
Whether your home is situated by the seaside or you simply want to evoke coastal locations, a blue and white colour scheme is a classic choice. From soft and delicate light blues to stronger, bolder shades, this colour combination will bring an element of contrast to your outdoor space.
Consider the timeless Celestial Blue paired with our brightest white, Loft White. Reflecting the shade of the clear blue sky, Celestial Blue will give your outdoor dining space a tranquil quality, perfect for relaxed entertaining with friends. Incorporate the fresh green, Garden, on wooden dining chairs to add a touch of vibrancy.
For something a little more impactful, paint exterior walls in the reflective white, Loft White, and contrast with Hicks' Blue on the doors and window frames. This statement pairing works well with red, white and blue striped textural elements and accessories, to create a nautical-inspired scheme.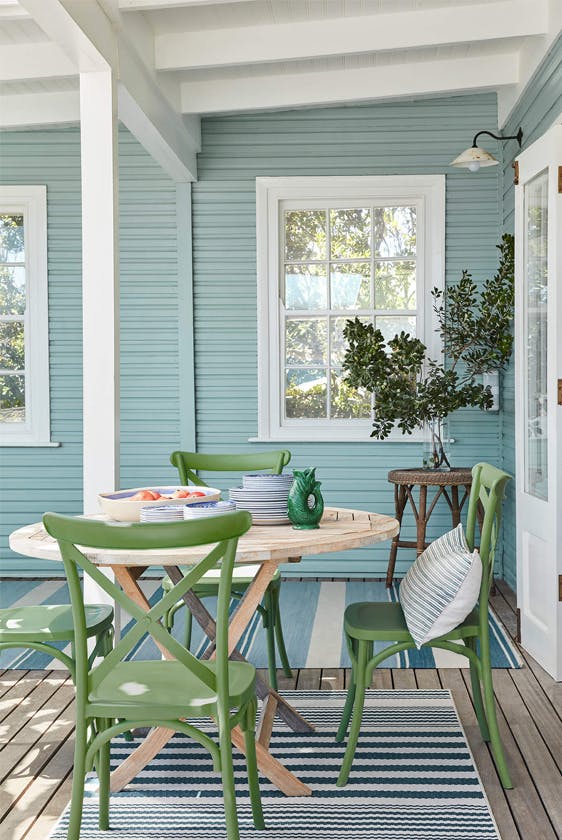 Ceiling, Door & Frame: Loft White, Cladded Wall: Celestial Blue, Chairs: Garden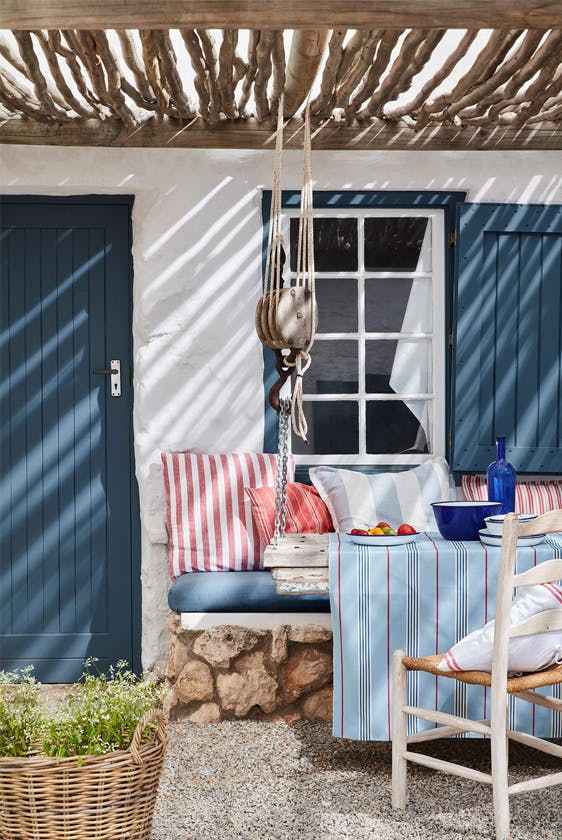 Door/Shutter/ Frame: Hicks' Blue, Wall: Loft White
Embrace strong and vibrant colours
Painting exterior walls is a fantastic way to create instant impact in your outdoor space. Used over a large expanse, strong and vibrant colours can provide a lively backdrop for al fresco dining. These shades reflect the fast-paced energy of sociable areas like kitchens or dining rooms, and can be coordinated with soft furnishings to achieve a cohesive, multi-purpose space.
Mazarine works wonderfully in outdoor settings where there is an abundance of natural light. Contrast with the earthy yellow, Yellow-Pink, and add bold botanical elements for a bright, confident and contemporary open-plan space.
Traditionally an expensive colour to produce, shades of red will add an air of opulence to your exterior dining space. Arras is a rich, earthy red that sits comfortably in exterior schemes. Pair with natural wood finishes and textures for a classic scheme inspired by Mediterranean landscapes. Or create a more contemporary design by introducing Loft White as a bright, contrasting highlight.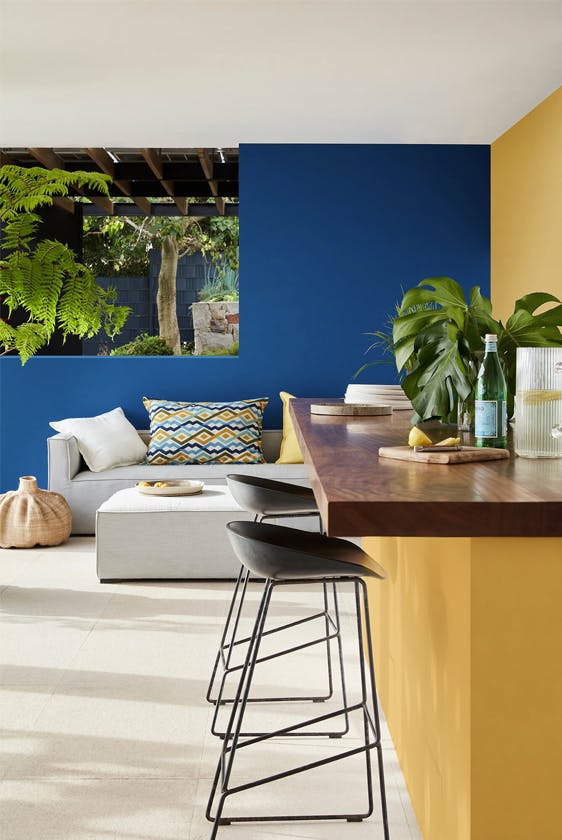 Far Wall: Mazarine, Right Wall & Island: Yellow-Pink, Ceiling: Shirting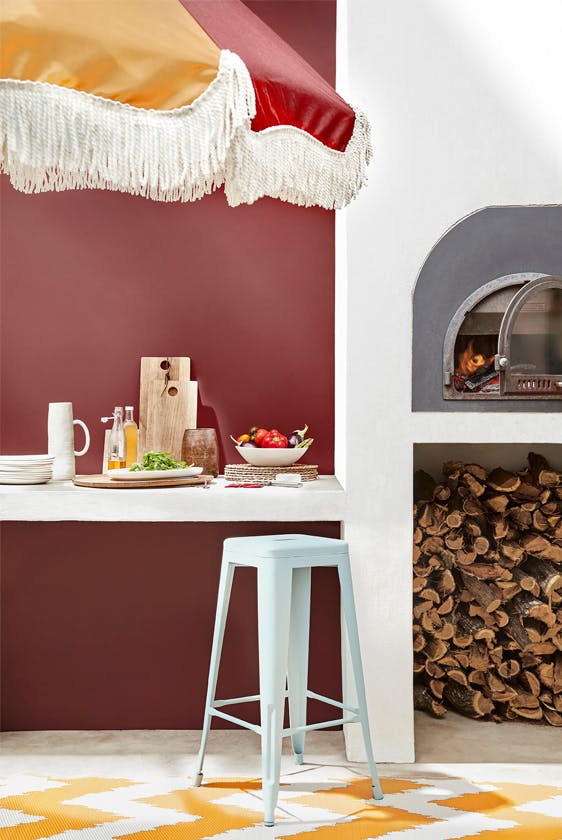 Wall: Arras, Fireplace Surround: Loft White, Stool: Bone China Blue
Utilise colour blocking for a contemporary design
Add further interest to your outdoor kitchen or dining space with the use of colour blocking. This design trend is a great choice for those who want to introduce brighter colours in smaller proportions, pairing them with complementary neutrals for an overall balanced scheme. It also offers a dynamic, contemporary twist that works fabulously in lively exterior settings.
Soft neutrals will create a versatile backdrop upon which to introduce brighter shades. Choose neutrals with umber or ochre undertones that provide a subtle, warm and earthy quality. Slaked Lime pairs well with the deep blue, Juniper Ash, for an elegant breakfast bar. Or introduce Indian Yellow and Garden accents upon a base of Silent White – Pale to inject joy into your outdoor kitchen.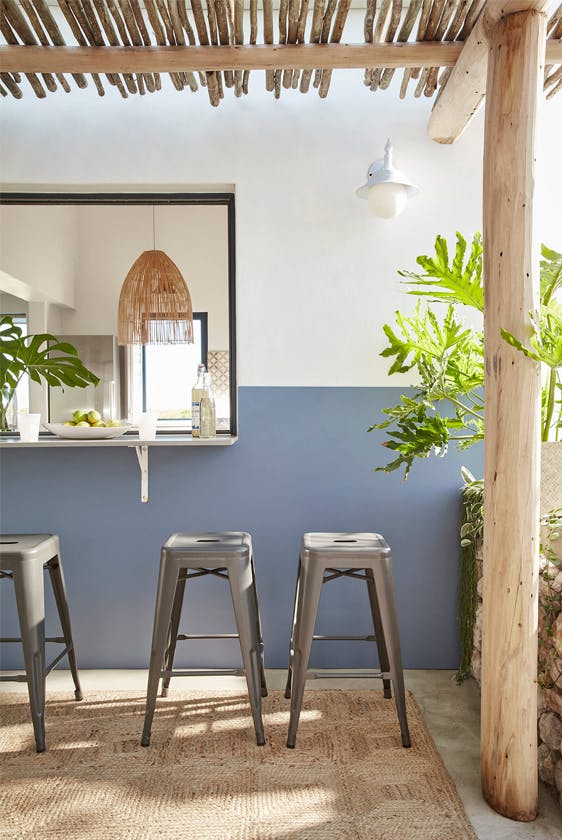 Wall: Slaked Lime & Juniper Ash, Stools: Vulcan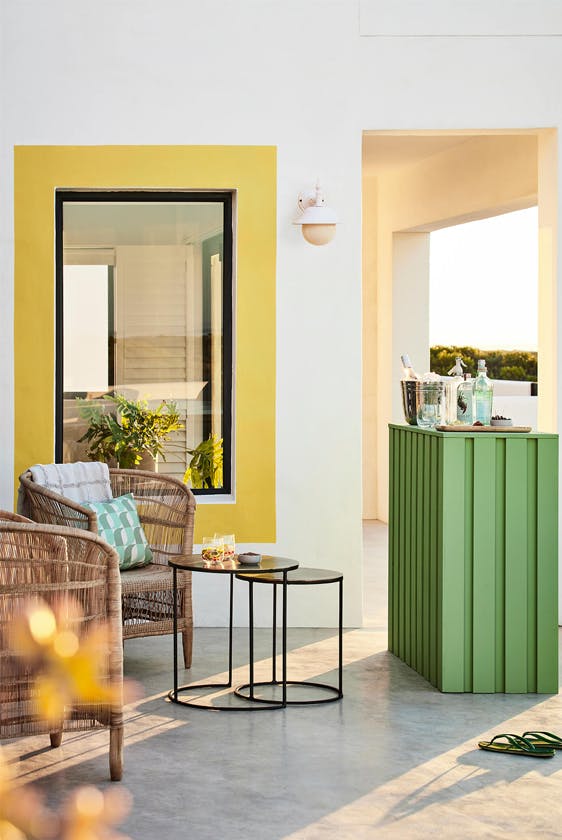 Window Frame Highlight: Indian Yellow, Bar: Garden, Wall: Silent White – Pale
Alternatively, select a palette of related neutrals and coordinate with natural materials and textures for a timeless and sophisticated dining area. A warm natural shade like Lute will sit comfortably among the surrounding greenery, pairing well with rattan textures, traditional stone walls and pure white soft furnishings.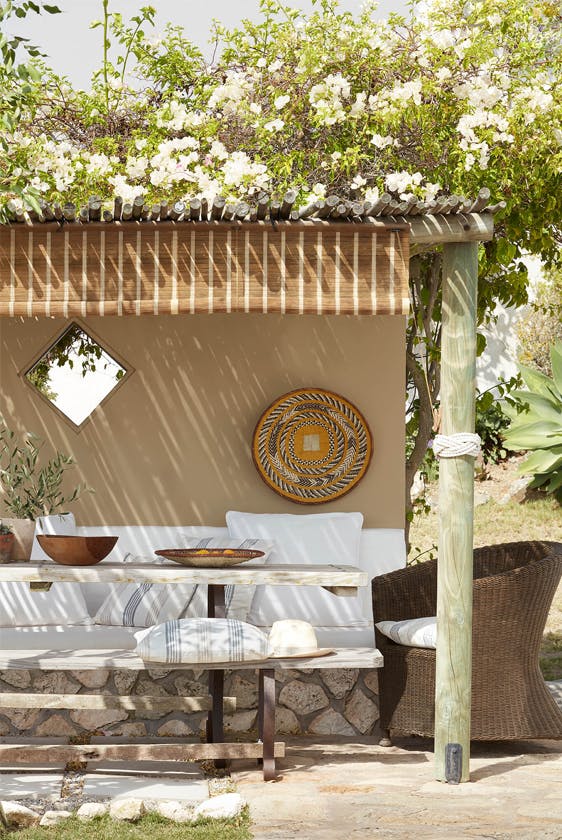 Wall: Lute, Seat: Flint